ArchT Navigator & Furniture Blocks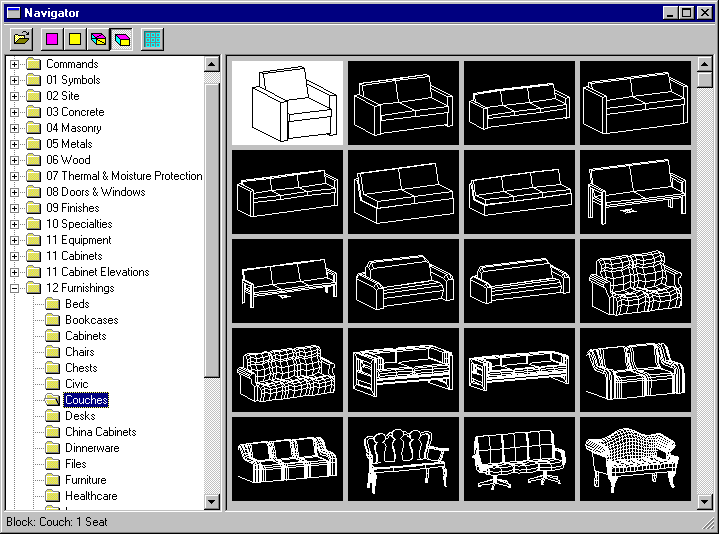 Navigator is a powerful tool that allows you to browse through the thousands of blocks provided in ArchT. Once you locate the block, you simply select it to insert it into your model.
For easy reference, the ArchT blocks are organized using Master Format divisions and groups in a standard index. You can use the standard index that comes with ArchT, or create additional indexes to organize the blocks in other ways to meet your needs.
For each block, the Navigator files contain the following data:
block name
name of the function used to insert the block
Autolayer information
2D-3D swap information
off-the-floor offset height
record data (if applicable)
Estimating record data (if applicable)
Navigator allows you to insert a variety of blocks which represent different views of the object:
Plan
Elevation
Quick 3D: This block uses fewer 3D faces than a Full 3D block, which means AutoCAD can regenerate it more quickly.
Full 3D: This block uses more 3D faces for greater detail. It provides the best results when rendering a model.
Note: Not all blocks are available for every view of an object. Only the available views display.
In addition to using Navigator to insert blocks, you can use it to access the ArchT commands. The Commands division has three groups which correspond to the three ArchT menus: Design, Document, Utility.